It was June 7, 2020 when it hit the Pulpo Gallery inbox:
Newsletter Signup Confirmation of Brett De Palma
We were flabbergasted. Could this possibly be the Brett De Palma we came across when researching the 1980's downtown art scene in New York City? The same Brett De Palma that Jean-Michel Basquiat so famously depicted in his 1982 work Brett As A Negro?
Emails were exchanged, the plan for a new exhibition was born and Brett was so kind to not only contribute some very exciting works of art to this exhibition but also write the introduction:
The Sign Forward - by Brett De Palma
When I first saw the PULPOGALLERY.com logo, I thought how interestingly it combined the expressive splash with parallel lines in a graphic symbol, echoing two main thoughts of contemporary art. When I saw they were offering work by Jean-Michel Basquiat and Baselitz, I thought they are tuned to two of my favorite important artists!
In 1978, when I first arrived in the international port city of Manhattan, after waiting tables on the likes of Robert DeNiro, I quickly landed a job at a blue chip SoHo gallery, Sperone-Westwater-Fischer. As a gallery manager, I quickly learned WWII contemporary art by meeting German and Italian artists, the likes of Gerhard Richter and Chia, Cucci, Clemente.
In 1979, after work, I painted at home and produced a body of paintings that I shared as a set of slides with a German sculptor who came for a studio visit. Unbeknownst to me, he had connections, and the next thing I knew, I received an invitation to show in Documenta 7.
Meanwhile, by 1980, I had joined the downtown New York underground by frequenting clubs, where I met other artists who were all part of a community beginning to take matters into their own hands and show work outside of the SoHo art center. I saw writing on the walls by someone tagged as "Samo." I was invited by friend Diego Cortez, to show in New York - New Wave, 1981, with one hundred other artists of my sensibility. During the installation, Diego came and said, "Someone wants to meet you." He took me to a young black artist and said, "This is Samo." Basquiat said to me, "You do anatomy? I do anatomy too." This began a long friendship that changed my life!
Meanwhile, in 1981, back at work one day, in walked Keith Haring, who I knew from the club scene, and he said, "I work for this guy, Tony Shafrazi, and he's starting a gallery, and I think you should be in it....." I said, "Yes!" At the same time, I was introduced through Chia, Cucci, Clemente to the Italian dealer, Emilio Mazzoli, who invited me to show in Modena, Italy, the month after Basquiat. All of this happened at once! My head was spinning and hasn't stopped.
To make a long story short, I have taught painting and drawing from Princeton University to School of Visual Arts in NYC for over thirty years, while having an art career like a roller coaster, while I have learned not to be fooled by the highs and lows, but to pay attention to the road signs.
So, when I see PULPOGALLERY.com online, I pay attention, and read it as the way forward, and I follow the lead of fellow-in-the-know, artists, gallerists, and collectors.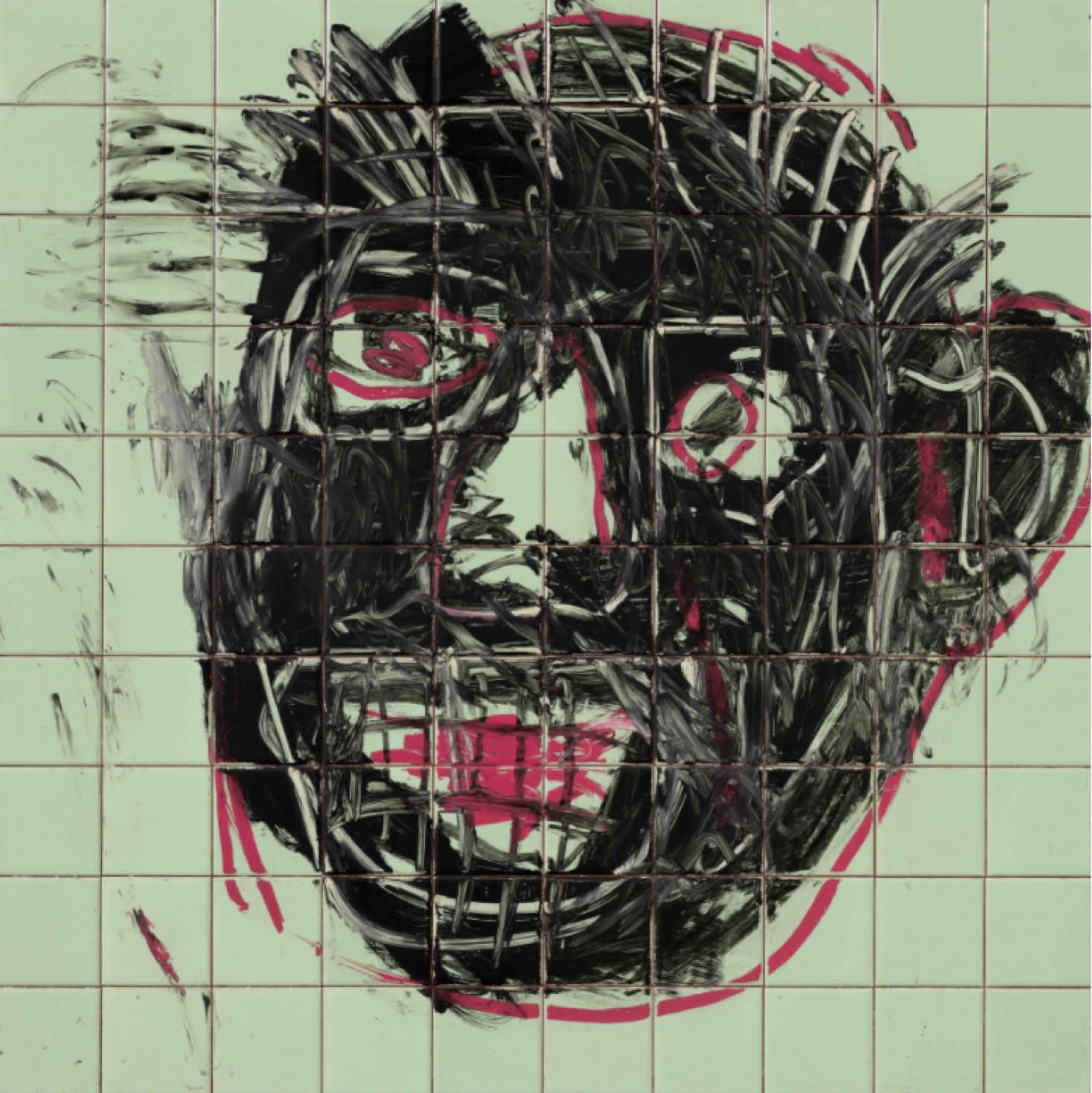 Jean-Michel Basquiat - BRETT AS A NEGRO, 1982. Acrylic on tiling glued on plywood. 109.5 x 109.5 cm.