"I was interested in painting from the time I was three years old. I didn't suddenly decide to be an artist. I remember drawing on my crib wall with my sister, and spilling blue ink on a silk-covered chair in our house. My mother, after she discovered it, had to paint the whole chair the color of the ink."
In his oft-cited Artforum article, Rene Ricard (1946 – 2014) wrote on the importance of becoming one's name, on being original, innovative, and by personifying the artist-as-icon role in the public realm. For the last fifty years, Judy Rifka has continued to personify that statement by existing both within the zeitgeist and on the periphery of it—even, at times, falling out of favor from it (it happens when you live a long and fruitful life)—all the while ceaselessly challenging her own modus operandi, her art and art forms that include painting, sculpture, video, performance, and more recently, Facebook and Instagram, those vast new canvases of social media Rifka embraces fully to dialogue with thousands of her adoring fans worldwide. Ricard wrote:
"One is at the mercy of the recognition factor and one's public appearance is absolute....If Andy Warhol can't be used as an object lesson in how to become iconic then his life has been a waste. We become our name."
And in this very public arena, Rifka, the quintessential archetype of a generation of art giants—many lost to drugs and AIDS—that emerged on New York's downtown scene in the 1970's, becomes Rifka the modern-day social media artist who shares, posts and 'LIKE's via daily ritualistic performances– and they are performances, executed as if on Ricard's cue–to boost 'recognition'.

A restless spirit with a Postmodernist, punk-like soul, Rifka set forth as artist during the heyday of the Age of Aquarius, the hippie generation in the midst of political chaos, Vietnam, and excitement at every turn. Her pro-action mindset in such an environment allowed Rifka to explore love and art simultaneously, easily, and with Abstract-Expressionism as guide and Flower Power as bar, boundaries in paint and life were pushed to the limits. Exploration became de rigueur of the day and from the moment she first stepped on the New York art scene as full-fledged artist in the early 1970's, Judy Rifka became her name and would, before long, become The Radiant Child:
"Rifka's work at the debut of the '70s.... her single shapes on plywood are among the most important paintings of the decade. Every painter who saw them at the time recognized their influence."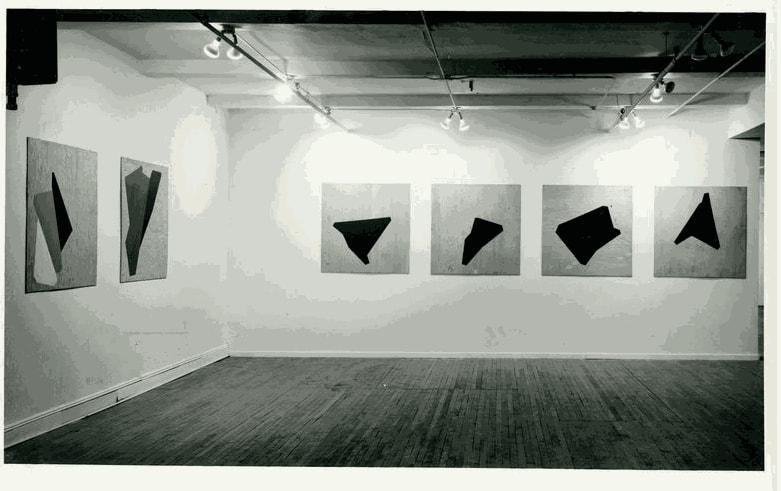 Rifka asserts she should have been an sculptor for she was "more interested in developing form than continually relating spatial arrangements to four edges of a canvas." These early investigations with form and space would become her raison d'être:
"I immersed myself in finding out about space. That really captivated me, trying to understand space, how to see it and how to draw through the image... I traveled through the Southwest and lived on a Navajo reservation where I painted. Desert space became a big thing for me, because there I was, trying to understand space in this vast area. Later, I became involved in dance and mixed the idea of movement with space, considering a line as a trajectory of movement. So it became about understanding space on the two-dimensional plane."
Rifka aims to capture line and forms positing in space as well its trajectory in space and its concomitant wake reverberating outward and within the four-walled holding cell —the 4'x4' plywood panel used most often for these single shape paintings. These simple yet majestic forms are allowed to 'dance', she says, on the panel and by way of layering and building-up of handmade paint they slowly and painstakingly emerge as 'morphing fields', a body-form that ricochets within and without and builds momentum, a centrifugal-like force that emanates off the picture plane and exists markedly, agelessly, in the face of Postmoderism's gaze. This movement dictates direction and hence allows the form to dictate design, starts designing itself, and trajects forward. Judy explains it thusly:
"It's a real different look at space. I'm not really going in the direction of other painters in terms of focusing on the surface and the strokes. I'm really rushing past that to what's going on in the space and how it's developing with time. That's why I'll often have a shape on the canvas that fairly ignores the exterior. That's why I liked the plywood; it was like a floor for the shapes to dance on. My compositions often move forward more and laterally incidentally, whereas typical compositions think about the way a viewer is going to relate to the exterior rectangle. I'm just leaving it there as a floor and moving forward."
Rifka's single shapes blow past Kasmir Malevich's Constructivist ideas about space by eliminating entirely any referential or emotionally conjured ideas about space. These works retain too that pictorial flatness Clement Geenberg salivated for. The art critic Jeremy Gilbert-Rolfe took note (while also noting how specially unique he found them) in an Artforum article in 1974:
"Judy Rifka's paintings dominated the show. Rifka's paintings are flatter than almost any other work that comes to mind, including that of others — Robert Ryman, for example — who are concerned with the material qualification of the painted object. At the same time they suggest a space infinitely deep, and its the scope of this evocation and accommodation of paradox of a subjectively considered material dialectic — which leads me to say that Rifka's is the most devastatingly original formulation of painting's identity that I've encountered in some time."
Fast-forward 40 years for a perfect example of historical curation not paying attention, not recognizing, their 70's darling: In a February 2007, New York Times review of High Times, Hard Times: New York Painting, 1967-1975, Roberta Smith writes of the 'brave if deficient show':
"In other instances the selected works are minor, as derivative now as they were then. Or the ideas are so literal or reduced that the artists couldn't go anywhere with them. Some inclusions seem almost ludicrous, given certain rather obvious absences... of Judy Rifka, Bill Jensen or Gary Stephan, whose efforts... were among the most closely watched developments of the early '70s."
How wonderful and apropos for Roberta Smith to point out Judy Rifka's absence from this historical survey. Closer inspection, however, more telling: Rifka's ex-husband, the artist David Reed – currently showing at Gagosian in New York – proposed that show and was – along with Independent Curators International – behind organizing it. The zeitgeist only human after-all. Slight aside, life goes on and Ms. Rifka, formerly Ms. Tenenbaum, modeled in 1968 for Alfred Leslie's iconic painting, Pregnant Tenenbaum, created while the young Rifka was carrying David Reed's son (novelist John Reed) and a student at New York Studio School, keeps pushing, keeps moving along. The mid-sixties found Rifka in London living for a month with folksinger Donovan as he was composing "Season of the Witch" and Hunter College beckoned too where she studied with Ron Gorchov whom she'd meet-up again for two years in the 70's – this time out-of-school – as he was working his ambidextrous saddle paintings and she her single shapes on plywood.
Rifka's movement remains constantly in flux and all the little anecdotes of past times and place important and relevant to the bigger picture – to the layering and building of Rifka's spirit — and how she carried that spirit with her wherever she went — in every decade — whether it was to Danceteria from '79-'86 to showcase her early video work or to Dubai for her
Retroactive
exhibition at the Jean-Paul Najar Foundation, Rifka brings it. Just like she brought it to Tompkins Square Park to have long talks with artist David Wojnarowicz or to Fun Gallery to share (in person) with friend Patti Astor whom she painted in a work titled "
Constructivist Nightlife
" that Ricard declared: "
The Modernist stylizations had come to life
." She brought it to the fourth floor of the notorious Mudd Club where Keith Haring curated and hung her paintings side-by-side with his and where Ricard first saw Rifka's works and he recognized their importance immediately just as he was the first to recognize
Jean-Michel Basquiat
and write about him critically for the first time in the very same article
The Radiant Child
cited above. Yes! That article was as much about SAMO as it was about Haring and Ahearns and Van Gogh and the one and only, Judy Rifka. If the German philosopher Georg Hegel were around today, he'd proclaim affirmatively that Rifka is beyond doubt the absolute G
eist ihrer Zeit
(spirit of her time). With emphasis, of course, on the
ihrer
. And the best part? Her time is now.
With her career spanning over fifty solo shows and countless group exhibitions, Judy's work can be seen in numerous public collections, museums and foundations throughout the United States and Europe. Major exhibitions have featured her work including:
1983 Whitney Biennial and the 1975 Whitney Biennial

The Museum of Modern Art, New York

Documenta VII, Kassel

San Francisco Museum of Modern Art

Carnegie Mellon University

Institute of Contemporary Art, Philadelphia

The New Museum of Contemporary Art, New York

The Brooklyn Museum

The Aldrich Museum of Contemporary Art Museum, Ridgefield

Museum Moderner Kunst, Vienna

Laforet Museum, Tokyo

Kansas City Art Institute

The Hudson River Museum, Yonkers

Kunst Rai, Amsterdam

Mint Museum, Charlotte

Bass Museum of Art, Miami

The Museum of Fine Art, Boston

Rhode Island School of Design, Providence
Foundation and Museum Collections
Academy Art Museum
Akron Art Museum
Albright-Knox Art Gallery
Berkeley Art Museum and Pacific Film Archive BAM/PFA,
Columbia Museum of Art
Dallas Museum of Art
Dayton Art Institute
Delaware Art Museum
Eli Broad Family Foundation, Los Angeles
Fleming Museum of Art, University of Vermont
Fogg Museum, Harvard University
Frederick R. Weisman Art Museum, University of Minnesota
Frederick R. Weisman Foundation, Los Angeles
Harvard Art Museums, Harvard University
Honolulu Academy of Arts
Hood Museum of Art, Dartmouth College
Huntington Art Gallery, University of Texas, Austin
Indianapolis Museum of Art
Jean-Paul Najar Foundation, Dubai
Kemper Museum of Contemporary Art, Kansas City, Missouri
Loch Haven Art Center, Orlando
Museum of Fine Arts, Boston
Museum of Modern Art, Print
New Gallery of Contemporary Art, Cleveland
New Mexico Museum of Art
New York Public Library
Newport Harbor Art Museum, Newport Beach
Oklahoma City Museum of Art
Pennsylvania Academy of the Fine Arts
Plains Art Museum
Portland Art Museum, Oregon
Portland Museum of Art, Maine
RISD Museum, Rhode Island School of Design
Seattle Art Museum
South Dakota Art Museum, South Dakota State University
Staatliches Museum, Berlin
The Contemporary Museum, Honolulu
The Danheisser Foundation, New York
The Daum Museum of Contemporary Art, State Fair Community College
The Metropolitan Museum of Art, New York
The Mint Museum, Charlotte
Toledo Museum of Art
University of Alaska Museum of the North
Virginia Museum of Fine Arts
Vogel 50x50
Weatherspoon Art Museum, The University of North Carolina at Greensboro
Corporate COLLECTIONS
ARCO, Los Angeles
American Express, New York
Bank of America, San Francisco
Bear Stearns, New York
The Boston Company, Inc., New York
Chemical Bank, New York
Exxon Corporation, New York
Goldman Sachs, New York
General Electric Company, Ridgefield, Connecticut
Hospital Corporation of America, Nashville
J.C. Penny, Stamford, Connecticut
The Levy Organization, Chicago
Standard Oil of Ohio
Madison Square Garden Corporation, New York
Merril Lynch, New York
Nations Bank, Charlotte
Needham, Harper & Speers, New York
Prudential Insurance Company, Newark
Readers' Digest, Pleasantville, New York
Wadsworth Publishing Company, San Francisco
Selected Solo Exhibitions
2019 Core Club, NYC: Ionic Ironic
2017 Merage Gallery, at Sinai Temple, Los Angeles, Selected Survey
2016 Jean-Paul Najar Foundation, Dubai, Judy Rifka : Retro Active Retrospective, One-Woman Retrospective Exhibition
2016 The Amstel Gallery at the Yard, Judy Rifka's Retrospective, curator, Gregory de la Haba, works of 40 years
2015 The Amstel Gallery at the Yard, Curator, Gregory de la Haba, Comparative Retrospective, 2 person, including Jay Milder
2014 Trestle Projects, BAS , Brooklyn, NY
2013 106 BLDG30 , One hour video show of J Rifka, Brooklyn, New York** Video
2011 Art6 Gallery, Richmond, Virginia
2007 The Chocolate Factory, New York
2001 Gallery X, Harlem. New York.
1997 Alley Culture Gallery, Detroit, Michigan
1996 Hofstra University, Collins Gallery, New York
1994 "Judy Rifka," Information Gallery, New York
1994 "Judy Rifka," Cade Tompkins, Bridgehampton
1992 Bistro 100, NationsBank Building Building, Charlotte
1991 "Judy Rifka," Real Art, New York "Judy Rifka Drawings 1980-1990," Brooke Alexander, New York
1991 "Judy Rifka: Paintings and Works on Paper," Ratner Gallery, Chicago Galerie Tobias Hirshmann, Frankfurt Ann Jaffee Gallery, Bay Harbor Ialands, Florida
1989 Executive Reception Area, Madison Square Garden, New York
1989 Bistro 110, Chicago
1989 Saxon Lee Gallery, Los Angeles
1989 Piramide Arte Contemporanea, Florence
1988 Union Square Cafe, New York
1988 Brooke Alexander, New York (catalogue)
1988 Galerie Tobias Hischmann, Frankfurt
1988 Gallery Ninety-Nine, Miami
1987 Saxon-Lee Gallery, Los Angeles (brochure)
1987 Brooke Alexander, New York
1986 Anna Friebe Galerie, Cologne (catalogue)
1986 "Judy Rifka Paintings," The Cleveland Museum of Art (brochure)
1986 Stephen Wirtz Gallery, San Francisco
1986 Gallery Ninety-Nine, Miami
1985 Standard Oil of Ohio, headquarters, Cleveland
1985 Brooke Alexander, New York
1985 Anna Friebe Galerie, New York (brochure)
1985 Gracie Mansion Gallery, New York
1984 "Judy Rifka: Major Works 1981-84:. Knight Gallery. Spirit Square Art Center, Charlotte; traveled to Anderson Gallery, Virginia Commonwealth University, Richmond (catalogue)"
1984 Galerie de France, Paris
1984 Brooke Alexander, New York
1984 51x Gallery, New York
1984 Carl Solway Gallery, Cincinnati
1983 Nicola Jacobs Gallery, London
1983 Brooke Alexander, New York
1983 Daniel Weinberg Gallery, San Francisco
1982 Brooke Alexander (catalogue)
1982 "Judy Rifka Paintings,"Reed College, Portland
1982 Daniel Weinberg Gallery, San Francisco
1981 Museum (Sub) Kultur, Berlin and Hamburg
1980 Printed Matter, New York
1978 Jean Paul Najar, Paris Name Gallery, Chicago
1977 Franklin Furnace, New York
1976 Susan Caldwell, New York
1975 Daniel Weinberg Gallery, San Francisco
1975 Artists Space, New York
1974 John Doyle Gallery, Chicago
SELECTED Group EXHIBITIONS
2017 Merage Gallery, at Sinai Temple, Los Angeles, Selected Survey

2016 Chesapeake Film Festival

2016 Greenpoint Film Festival** Video
2015 Cape Cod Museum , Group exhibition "Lost Cat"
2015 Amstel Yard, NYC
2014 Cutlog Contemporary Art Fair, NYC, , Alison Pierz Booth
2014 Lodge Gallery,, NYC "Madness"
2014 Lodge Gallery, NYC Real Estate "Colab Show,"
2013 Trestle Gallery, Brooklyn, New York
2013 ASC Gallery Chelsea, New York
2012 Claire Oliver Gallery, NYC, "Beyond Bling"
2011 "PooL Art Fair" NYC
2011 "Herb and Dorothy Vogel Exhibition," Weatherspoon Art Museum,Greensboro, North Carolina
2011 "Herb and Dorothy Vogel Exhibition," Portland Art Museum, Portland, Oregon
2010 "Herb and Dorothy Vogel Exhibition," Pennsylvania Academy of Fine Arts
2010 "Herb and Dorothy Vogel Exhibition," Delaware Art Museum, Wilmington, Delaware
2010 "Herb and Dorothy Vogel Exhibition," Albright-Knox Art Gallery, Buffalo, New York
2010 "Herb and Dorothy Vogel Exhibition," Honolulu Academy of Arts
2010 "Herb and Dorothy Vogel Exhibition," Columbia Museum of Art, Columbia, South Carolina
2010 "Tom of Finland and Then Some," Feature inc, NYC
2008 Red Saw Gallery, Newark, NJ
2007 Alley Culture, Detroit
2006 "The Downtown Show" Grey Art Gallery, New York
2006 "Selections from the Collection" Berkeley Art Museum and Pacific Film Archive BAM/PFA, Berkeley, CA
2005 "Red White Blue," Spencer Brownstone, New York
2005 "Cat-Holic," Australia, Tokyo
2005 "Drawing Show," Alley Culture, Detroit
2005 "The Continuous Mark," Studio School, New York

2004 Brooke Alexander Editions, New York, NY

2003 "Drawings," Alley Culture, Detroit
2002 "Extreme Exteriors," Gallery X Harlem, New York
2001 "Extreme Exteriors," Gallery X Harlem, New York
1998 Herb and Dorothy Vogel Exhibition, Washington
1997 Exit Art, Poster Exhibition, New York New York
1996 Nora Haime Gallery, Group Exhibition, New York New York
1996 Vogel Collection; University of Atlanta Gallery, Georgia
1995 Mint Museum, Charlote, North Carolina
1994 "Beyond the Pale," Irish Museum of Modern Art, Dublin
1994 "Inaugural Exhibition," Kansas City Art Institute
1994 Charlotee Crosby Kemper Gallery, Kansas City
1994 "Group Exhibition," Joel Kessler Fine Art, Miami Beach Florida
1994 "Time Out Youth Auction & Exhibition," Center of the Earth Gallery, Charlotte
1994 "Metrolina Aids Project Exhibition," Knight Gallery/Spirit Square Arts Center, Charlotte
1993 "Nature Morte: Alumni, New York Studio School Gallery, New York
1992 "Group Exhibitions," Jerald Melberg Gallery, Inc., Charlotte
1992 "Arts at Friends,"F, Bitter Larkin Gallery, Friends Se
1992 "A feast for the Eyes," Associated American Artists, New York
1991 "On the Move," Champion Gallery, Stamford, Connecticut
1991 "Art for Your Collection," Museum of Art, Rhode Island School of Design
1989 "At the Water's Edge: 19th Century American beach Scenes," Tampa Museum of Art Center for the Arts, Vero Beach; Center for the Arts, Virginia Beach; Arkansas Arts Center, Litle Rock
1989 "Skowhegan Retrospective 1975-1985," Portland Museum of Art, Maine; traveled to Museum of Art, Colby College, Waterville, Maine
1989 "Making their Mark: Women Artists Move in the Mainstream 1970-85," traveled to Cincinnati Art Museum; New Orleans; Denver Art Museum; Pennsylvania Academy of Fine Arts, Philadelphia
1989 "Sounding The Depths: 150 Years of American Seascape," American Federation of Art, New York
1989 "The Future Now," Bass Museum of Art, Miami
1988 "Contemporary Art Auction 2," to benefit El Bohio Community Cultural Center, El Bohio, New York
1988 "En Keuze/A Choice," Kunst Rai'88 Amserdam
1988 "6 Contemporary Viewpoins in Painting and Sculpture," St. Paul's School, Concord, New Hampshire
1987 "The Gleaning Eye: Sandy Seawright Collection," Rowe Gallery, University of North Carolina at Charlotte
1987 "Borrowed Embellishments," Kansas City Art Institute
1987 "Group Show," Fashion Moda, Bronx, New York
1986 "Between Painting and Sculpture," Palo Alto Cultural Center, California
1986 "Painting and Sculpture Today: 1986," Indianapolis Museum of Art
1986 "An American Renaissance: Painting and Sculpture since 1940," Museum of Art, Fort Lauderdale
1985 "Correspondences: New York Art Now," Laforet Museum, Harajuku, Tokyo; traveled to Tochigi Prefectural Museum of Fine Arts, Utsunomiya and Tagaki Hall Espace Media, Kobe
1985 "Large Drawings," traveled exhibition organized by Independent Curators, Inc., New York
1985 "Points of View: Four Painters," traveled exhibition organized by Independent Curators, inc. New York
1985 "Anniottanta," Castel Sismondo, Pazazzina Mostre, Chiesa di Santa Maria ad Nives, Rimini
1985 "Kunst Mit Eigen-Sinn," Museum Moderner Kunst, Vienna
1984 "The Human Condition: San Francisco Museum of Modern Art Biennial III"
1984 "American Neo-Expressionists," The Aldrich Museum of Contemporary Art, Ridgfield, Connecticut
1984 "Painting and Sculpture Today: 1984" Indianapolis Museum of Art
1983 "Back to the Usa," Kunstmuseum, Luzern; traveled to Rheinisches Landesmuseum, Bonn; Württembergischer Kunstverein, Stuttgart
1983 "The American Artist as Printmaker- 23rd National Print Exhibition," the Brooklyn Museum
1983 "1983 Biennial Exhibition," The Whitney Museum of American Art, New York
1983 "New York Painting Today," Carnegie Melton University, Pittsburg
1983 "Painting, Sculpture, Totems and 3-D," Tony Shafrazi Gallery, New York
1982 "The Image Scavengers," Insitute of Contemporary Art, Philadelphia
1982 "Urban Kisses," Institute of Contmeporary Art, London
1982 "Documenta 7." Kassel
1982 "New York Now," Kestner-Gesellschaft, Hannover
1981 "Represent, Representation, Representative, "Brooke Alexander, New York
1981 "Stay Tuned", The New Museum, New York
1981 "35 Artists Return to Artists Space," Artists Space, New York
1981 Lisson Gallery, London
1980 "Times Square Show," New York
1980 "Collaboative Projects Theme Shows a Benefit at Brooke Alexander, Inc., New York
1979 Collaborative Projects Theme Shows curated by Jenny Holzer: "Manifesto Show," and "Income and Wealth Show," 5 Bleecker Street, "The Doctor and Dentists Show," and "The Dog Show," 591 Broadway, New York
1978 "Opening Exhibition,' Insitute for Art & Urban Resources at P.S.1, Long Iland City, New York
1975 Idea Warehouse, New York
1975 "The Herbert and Dorothy Vogel Collection," Institute of Contemporary Art, Philadelphia
1975 "1975 Biennial Exhibition, "The Whitney Museum of American Art, New York
1974 Bykert Gallery, New York