Murnau, March 14, 2021
Rarible, a digital collectibles marketplace, has censored its highest grossing artist Rulton Fyder in a very controversial move on March 13. By removing his verification badge, his artist page and artworks are no longer searchable on the platform. To date, Rarible has not provided any explanation for the move.
NFTs have been the talk of town, culminating in Beeple's "Everydays: The First 5000 Days" selling for $ 69.346.250 in an online auction at Christie's last week. Yet, most artwork commentators will be quick to point out that the collectibles for sale at marketplaces like Rarible mostly consist of animated cartoons, memes, frogs or even caricatures of Elon Musk.
Rulton Fyder, a conceptual artist whose works often fall within the genre of appropriation art, is amongst the few artists producing NFTs who has received widespread attention in the traditional fine art world. He bridges the divide between the digital world of NFTs and the - slow to adapt - old school art world and his works document and archive our current society like no other.
TIPS FOR ARTISTS WHO WANT TO SELL NFT, 2021 (pictured below) is a case in point of his brilliant commentary on the here and now: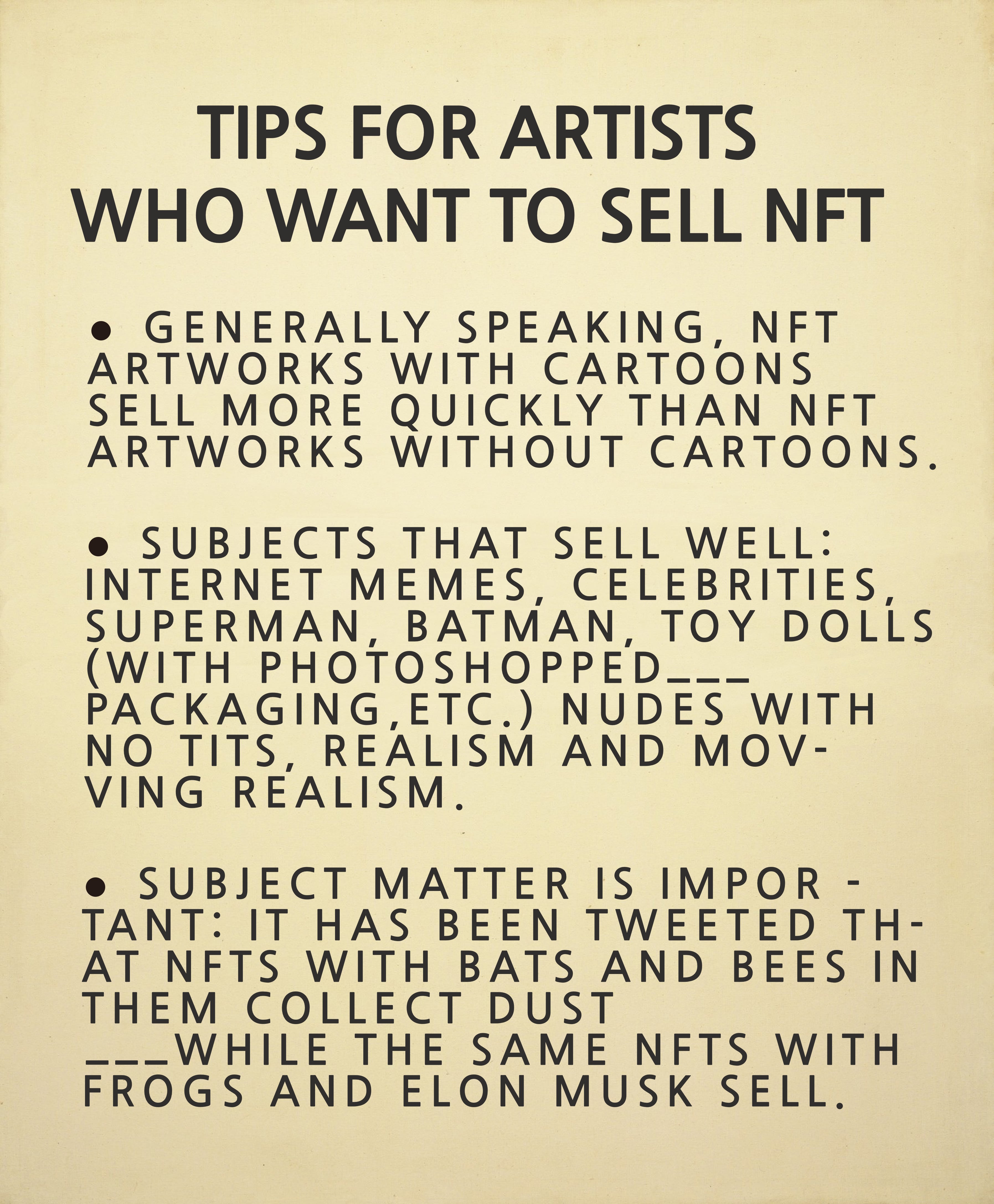 In a clever nod to John Baldessari's landmark work from 1966, Fyder utilizes the sense of familiarity elicited from the well-known image, adds a new conceptual layer and his own commentary to arrive at a perfect testament of today's society.
Arriving on the contemporary art scene just weeks ago, his works have already found their way into institutional collections and he became the number one grossing artist on Rarible before the platform decided to censor his account last night.
As no explanation was provided, we can only assume the operators of the platform are not aware or entirely missed the point of appropriation art which is the concept of re-contextualizing whatever it borrows to create new work.
Or is Rarible's decision to censor Rulton Fyder's work actually a piece of conceptual art in itself? Whatever the concept of this move might be, I want to dismiss this idea by quoting Sol LeWitt's "Paragraphs on Conceptual Art", published in Artforum 5 in 1967: "Conceptual art is only good when the idea is good".
As such, Rulton Fyder's art clearly is a master's work while Raribles move is one, that does damage to the entire NFT ecosystem.
Commentary by Nico Zeifang, co-founder of PULPO GALLERY
PRESS CONTACT
Katherina Zeifang
katherina@pulpogallery.com
+49 171 1778796
This article may be republished in parts or its entirety by giving reference to the original article.
March 14, 2021