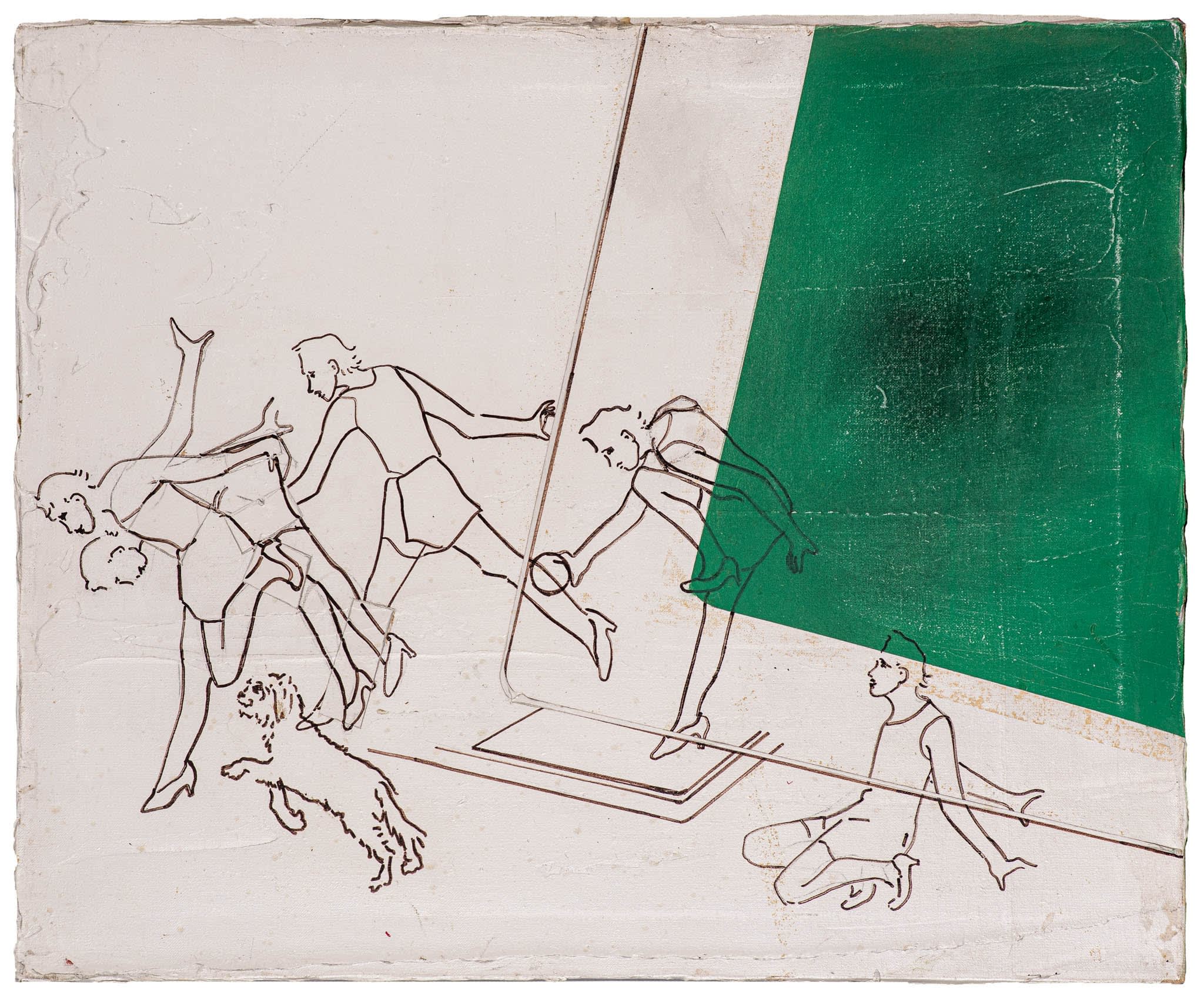 Judy Rifka - Art is Long, 1979. Photo by Thomas Dashuber.
Judy Rifka - Relay Race, 1979. Photo by Thomas Dashuber.
In this series from 1979, Judy Rifka explores the possibilities offered by surface and perspective within an image and a given medium. The work "School Days" possibly depicts the surface of a green school chalkboard - with fine brushstrokes that can perfectly imitate the texture of chalk, she writes "February", "123456", "NO". The female figures, as if suddenly awakened to life, begin to move forward in fluid, dynamic, progressive yet tempered movements - a sketched dog is depicted next to her.

In "Art is Long", perhaps the same figure is shown in five different postures, each more dynamic and expressive than the other, like in slow-motion movements while she attempts to escape the board. This silhouette is caught up in artful, animation-like, cinematic motions. In this extremely balanced composition, we encounter a paradox within the perspective: the silhouette seems to escape the frame of the blackboard and she loses itself in a white void. The continuation of this scene takes place in the next picture entitled "Relay Race": the female figure can now be seen three consecutive times in different movements and it seems that she's following the falling red element.
The fact that these figures move on a neutral color background is probably also meant to refer to Rifka's preference for trompe-l'œil - they lose themselves on this surface, but the lack of background makes them appear as a part of the gallery walls and thereby also of the reality.
In this series, physical boundaries are visually transgressed, and one enters into an ideology of space.

The simplicity of the coloring in these three paintings deserves special attention: from emerald green colors to white-silver tones for the background - this is a concise color palette that has a strong suggestive power. The figures are executed with fine, precisely painted lines that reveal neither shadows nor clear anatomy - it seems as if sketch drawings are coming to life.